Antique Japanese Swords

---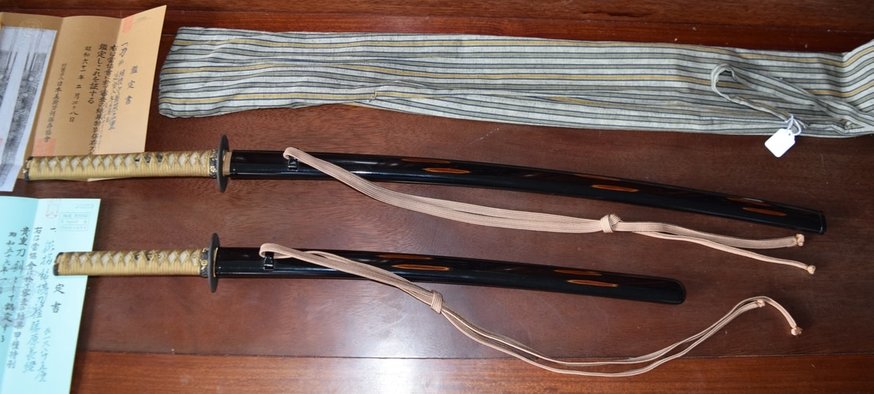 ​Beautiful Antique Japanese Sword Daisho set
​
Dai - long sword ,Signed tachi mei Sagami no Kami Fujiwara Hiroshige , Dated Enpo Hachi Nen Nigatsu Hi
Measurements 29 3/8" nagasa ( length) , 1 1/4" motohaba ( width) , yokote 7/8" ,kasane ( thickness) 5/16",
​.The Daito has an old shirasaya with Homma sensei sayagaki , from 1986

Sho - ( short sword) Signed Sesshu Ju Fujiwara Nagatsuna, Circa. 1660
​Measurements 21 1/2" nagasa (length), 1 1/4" motohaba ( width) , Yokote 13/16" , Kasane ( thickness) 1/4"

Tsubas - are vey finely done black shakudo nanako with gold, silver highlights signed Goto Mitsutaka
​
Fuchi kashira - are signed Goto Mitsuhide

Menuki - are very good floral Goto pieces.

Kozuka - Signed Toshinao Rokutakean, Circa 1825

​Ko katana - Signed Hoki no Kami Fujiwara Nobutaka

Contact for questions, payment options and if you would like more pictures.
---
CGG4 Chikanori Daito with koshirae

A very nice long blade by first generation Chikanori.
Signed: Seki Zenjoke Echizen No Kami Yoshikado Mago Chikanori.
Ansei Ni Nen Go Gatsu Motte Hitachi No Kuni Kashima Sa Tetsu Tsukuru
Age: Ansei Ni Nen Go Gatsu
Nagasa : Ni Saku San Sun Yon Bu, 28"
Temper: SUguba
Kitae: Koitame

From the Seki Zenjo school line. A Hitachi master from Kashima Gnn present day Ibaraki prefecture. His learning was heavily influenced by grandfather Godai Megawa Murakansaburo last of the Bandotaro Bokuden and also neighbor to Kawamura toyosaburo. In tempo ju ichi, 1840 he studied with Taikei Naotane when Naotane was making swords and teaching at Kashu-jo castle in the service of Mito at their Han district. He followed Naotane to Edo in pursuit of further knowledge. He later left Edo to return to and make swords for Mito. He made Yamato Den suguha, gunome- midare ba , gunome and notare ba style tempers. He died in the fifth year of Ansei 1858.
Comes with shirasaya, koshirae with tsunagi , Mito tsuba.
With NTHK certificate
Consignment Item.

​
---
CGG3 Hizen No Kuni Junin Hirosada Wakizashi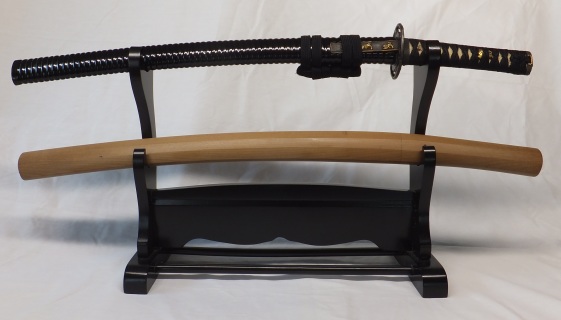 Hizen No Kuni Junin Hirosada Wakizashi.

Nagasa: 1 shaku 5 sun 6 bu, 18 5/8 " , Sori: 12 mm
Hamon: gunome choji midare, shinogi-zukuri, Bohi : suguba ,ko - maru.
Kitae: Ko mokume. Age: around Keian (1648-1652)
Hirosada is the son of Shodai Kanehiro , and became the nidai Kanehiro. He ( Shodai Kanehiro) is also called Souemon and later called Yoshiie. His works are gunome choji. There are some also in suguba and both have strong ji and ha. He was in the Tadayoshi Mon ( school) and later changed his name to Yoshiie. He died in 1658.
This wakizashi of Hirosada has very fine workmanship and influence of his fathers work. The hamon has many hataraki. The hada is strong and rich looking. This is a nice example of the swordsmith Hirosada and Hizen school sword work. Blade comes in shirasaya with bag.
The koshirae is a nice ribbed black lacquer saya with iron sukashi tsuba. Kiku motif nanako fuchi kashira with shishi motif menuki and kozuka.. the koshirae has a tsunagi.. comes with NTHK Yoshikawa sensei certificate Oct 2, 1997.
Consignment item.

​$6,800 Priced reduced to $4,800

---
---