Sword Fittings - Tsubas
Click view product button / image to enlarge or see more images.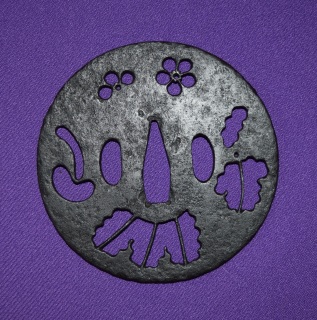 CTL#5 Large early iron Katchushi tsuba
Size: 86 cm height x 86 cm width x 3 mm thickness
​This is a very early japanese sword tsuba with multiple piercings. The pierced design is of leaves , plum blossoms and a mushroom. When held as if worn with the cutting edge down the mushroom is in the upward position suggesting it is growing and the leaves are also in an upward position. I think this was worn on a tachi rather than on an uchikatana. The patina and condition suggests to that it is Mid Muromachi in age. Has an NBTHK Hozon certificate to Katchushi. On the fitted box it has a sticker that sayas Ko Katchushi - Ko Tosho
---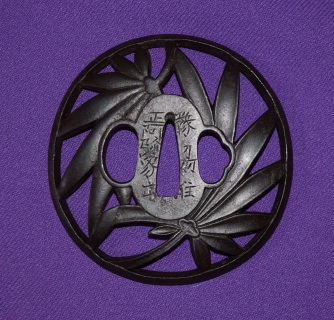 CTL#2 Iron maple leaf Sukashi tsuba by Ietake
Nice iron sukashi tsuba by Ietake from the Iyo Shoami school.
Size: 8.5 cm ht x 8.3 cm w x 4mm thick
this smith was working in the end of Genroku. The meikan says he left tsuba with the date of Genroku year of the Uma ( Mizu no E Uma) Aug 1702. The patina is a lovely dark chocolate color with a few small rust pile ups that can be easily removed. An interesting shape with the back in a cup shape showing the other side of the leaves

---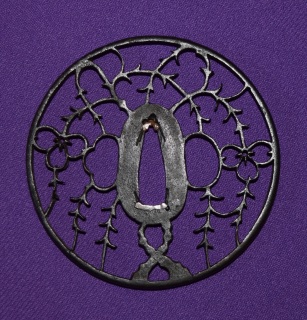 CTL17 Cherry Blossom & Willow Kyo Sukashi Iron Tsuba.
A very nice old Japanese Sword Tsuba of Cherry Blossom and Willow motif. Ca. 1500 era
Size: 8.3cm x 8.3cm x 4.5mm
Forty to fifty years ago it was not hard to see these early pieces available on the Japanese market and to a less extant in the US. Nowadays, to be able to buy one is a rare occasion. This piece has nice linear iron bones on the rim and while the connecting elements are delicate this guard exudes power. There is some rust degradation but it is still intact showing a wonderful design. in a fitted box by Kuronuma before he passed away.

---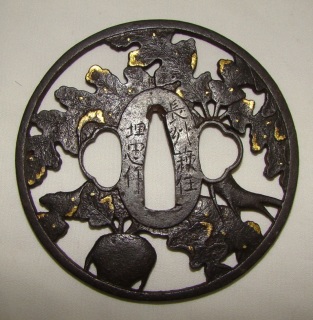 Large Choshu Sukashi Tsuba of Kabu Design
This is a geat large Choshu Sukashi tsuba of Kabu ( radish) motif. This piece is perfectly round and is the classic style of the dated pieces made Mid 17th century. It is signed Choshu Hagi Ju Umetada Saku. Looking at this tsuba clearly shows the influence of the Ko Hagi sukashi style of late Koto into early Edo period.. The Kyoto Umetada school had a great influence through all of the 17th century and beyond. There were 18 major players and 29 minor workers who went on to become the Umetada of Edo, Osaka, Harima, Choshu and Hizen. It is thought that Umetada Hikobei (Masatomo ) was a son of Umetada Myoju or a live in student as he worked in Kyoto and then Hagi. His family name is Umetada Okada as shown on many of his works. He went on to found the Choshu Okada school of Hagi. He was born in 1601 and died in 1688 leaving many examples of his work. His birth name was Umetada Hikobei . Most of his work was produced during Genwa 91615) through Tenwa (1681).
The gold dew drop inlays are in a rich gold along with the fine line carving of veins in the leaves makes it a very attractive piece.
Comes with a NBTHK Hozon certificate. it was submitted to only Hozon shinsa .
Size: 8.2cm ht x 4mm thick

---
---
---