Owner/ Sword Polisher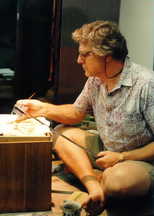 Robert Benson
Robert Benson is one of a small number of American experts on Japanese sword polishing. He studied sword polishing & appraisal under three top teachers, including Koke Ono, a " living treasure" in Japan and at that time was head sword polisher for the National Museum in Tokyo.
In 1967, Mr. Benson polished a naginata and entered the annual polishing competition sponsored by Nippon Bijitsu Token Hozon Kyokai ( The Society for the Preservation of Japanese Art Swords). His sword took the Dorokusho, ( Diligent Endeavor Award), an honor never before granted a foreigner. The Japanese recognized him as being the first non- Japanese to have studied sword polishing and first non-Japanese to have been honored by the National Museum with a certificate recognizing him as a polisher of distinction. Since then he has been restoring swords for both Japanese and American collectors . Since retiring from the Air force in 1977 he has continued his studies of the Nihonto full time.
Member: Japanese Sword Society of the United States ( JSSUS), Nippon Bijutsu Token Hozon Kyokai ( NBTHK) since 1967, Founding member & Advisor to the American Branch of the NBTHK

---
---
Sword Polisher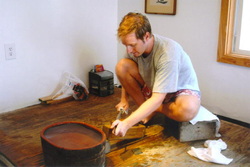 Woodrow Hall
Woodrow Hall, first came to work for us in 1989 as a clerk. After several years of actual hands on experience handling of swords and kodogu he expressed a great interest in learning sword polishing. He had been watching polishing and repairs on a daily basis for several years and finally after seeing he could easily grasp the task of kanji removal and repair of yasurime, I agreed to have him as an apprentice. In the 57th NBTHK Japanese Sword Polishing Contest (2004) Woody was awarded the Dorokusho ( Diligent Endeavor Award) and has been perfecting his skills as a polisher ever since.


---
---
Other Polishers who have studied with us.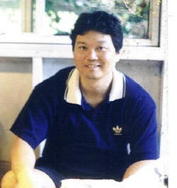 Byron Shimizu
My first apprentice was Ralph Oquendo in the early 80's. While he was here in Hawaii he studied kendo where Byron Shimizu was also a kendo student . Byron Shimizu watched Ralph and I work on swords for several years and in 1985 I agreed to take him on as an apprentice. Byron's ability increased to being confident in handling of swords of Juyo Token class. He distinguished himself by the mid-90's of easily polishing blades that would be submitted for the Juyo Token shinsa. For numerous years the three of us, Woodrow, Byron and myself worked in the togi heya on the large togidai polishing swords. It was in this daily work schedule that Woodrow advanced to being a far above average sword polisher. His ability can be directly attributed to Byron Shimizu as the two would work side by side for long hours and Byron would give him guidance. The two of them experimented with how to best use hatsuya, jitsuya and different nugui on all periods and schools of swords. I am confident in saying that these two have shown that they are well qualified in the true Honami style of sword polishing.
Mike Christianson, John Brostowictz , Robert Tanner are some of the other sword devotees who have dedicated the time to study the art of polishing.


One of the highlights of my years as a polisher was for me to have Woodrow given the same award in 2004 that I received years ago when I was the first foreigner to ever submit a polished work and the first foreigner honored with an award by the NBTHK in their 20th polishing contest ( 1967). This is a true example of the reward that is waiting for those who persevere in their work and study habits as Woodrow Hall has done for many years.


---